Citronella Candle in a Jar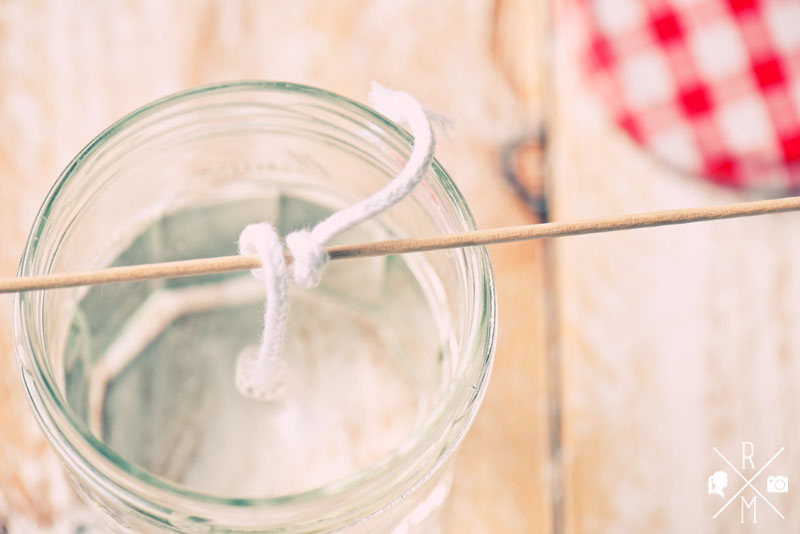 Supplies
200 g of wax platelets
15 drops of citronella oil
Piece of candle wick
1 jar of jam á 250 g
Directions
Using the hot glue gun, affix the wicks to the bottom of the jar and press it firmly to the center.
Assemble your double boiler and add wax or old candles in small pieces. Heat over medium flame until the wax is completely melted.
When the wax is melted it's time to add the fragrance. Add 1 oz of citronella oil per pound of wax and augment the scent with 0.5 oz of other scents per pound.
Let the wax cool slightly and carefully pour into the jam jar. Careful not to disturb the wicks too much and set them in a warm place to cool. Cooling slowly and completely will create the best looking candles.
If you get a depressed area around the wick when cooled, warm up some more wax and pour it into the void.
Allow your candle to cure for 48 hours undisturbed before burning. Then, when you fire it up, let the candle burn so that there is a full, wide pool of wax before you blow it out. It is said that candles have a memory, so it's best to let the first burn set the tone for all the rest.
Decorate your candles by wrapping them in burlap, twine and/or yarn. Store near them near the garden, deck or patio so you can quickly light up when the pests start buzzing around.
Shoo away those singing mosquitoes with these fragrant light ups!!!! A perfect project with purpose!!! Great for a garden party....
2076
1