Instant Mocha Mix
SUPPLIES
Martha Stewart Crafts darling test tube favor kit (halloween themed)
sugar
dry creamer
instant coffee
dry milk powder
cocoa powder
salt + cinnamon (optional)
mallow bits and chocolate sprinkles (optional)
sticker paper
FREE label downloads below
recipe card print out
INGREDIENTS
3/4 cup sugar
3/4 cup dry creamer
1/2 cup instant coffee
1/2 cup dry milk powder
1/3 cup cocoa powder
optional;
1 tsp. salt
1 tsp. cinnamon
mallow bits
chocolate sprinkles
INSTRUCTIONS
Mix all the ingredients together in a blender until completely combined. That's all there is too it!
To brew : Add 1.5 tablespoons to an 8 ounce glass of hot water or milk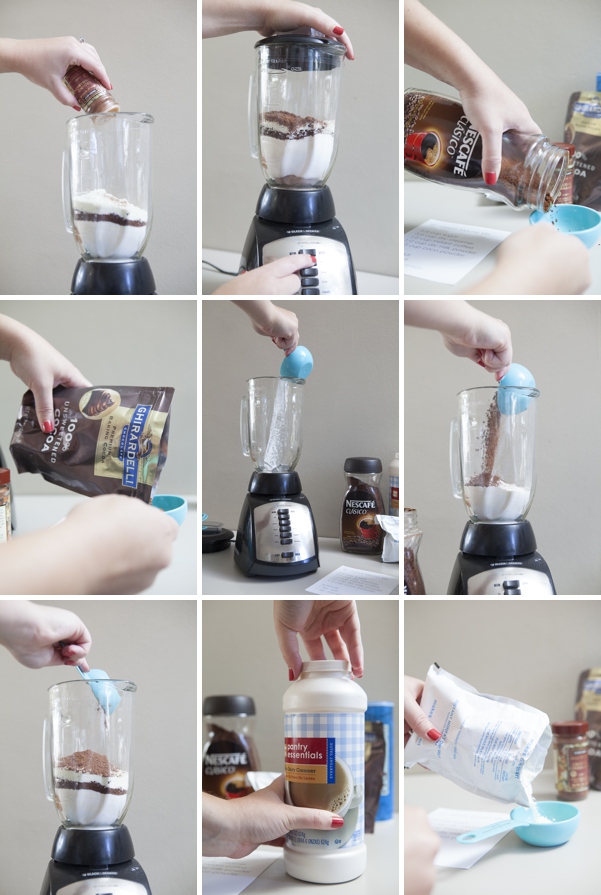 …and mix until they are completely combined.
Each adorable test tube will perfectly fit 3 tablespoons of mix. Using a funnel helps. Once all 3 tablespoons are in the test tube, gently tap the bottom of the tube onto the counter a few times to pack the mix down. This recipe will make about 15 test tubes.
Next, add your choice of cute toppings… here I'm adding chocolate sprinkles and mallow bits. You can add anything you'd like or nothing at all, it's your call.
Place the cork on top and you're done! Aren't they so cute!
Download the super cute 'Love is Brewing' label from the link below and print it onto sticker paper.
http://somethingturquoise.com/2013/09/27/diy-instant-mocha-mix-recipe/
Carefully cut each one out, leaving a little white edge around the outside… peel the sticky backing off and place onto your 'mocha mix' test tube!
3641
1